Longmire Building, Alumni and Beth Moor Lounges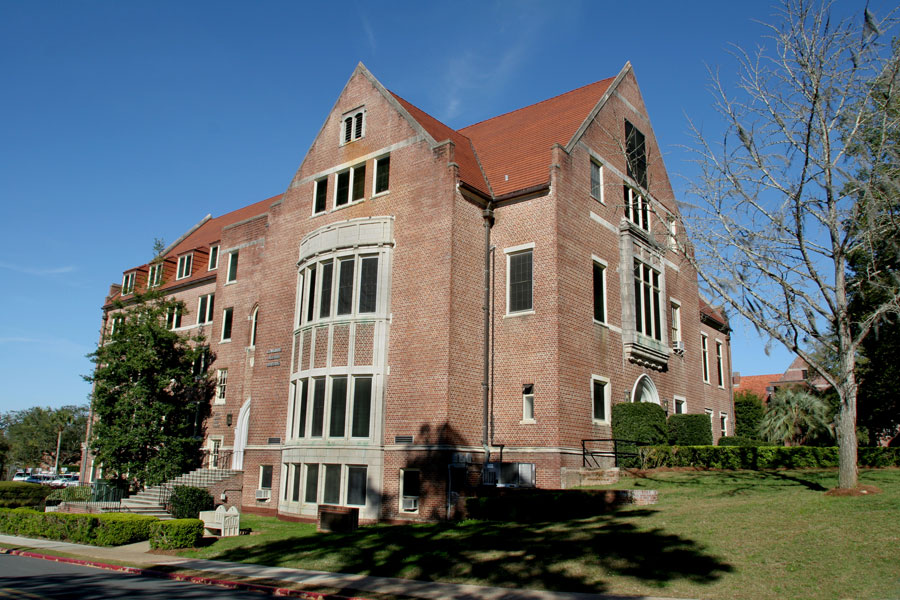 The Gothic design elements of the Longmire Building make it a site to see. Built in 1938, it continues to display original hand-painted plaster ceilings, paneled walls and medieval art. Named in honor of Rowena Longmire, an English professor and founder of the Florida State College for Women Alumnae Association, it was the first building on campus to be named for a faculty member. Longmire has been a hub of youthful activity over the years – at times housing the Student Government Association, YWCA, a student lounge, a locker room for day students, accommodations for visiting alumnae and distinguished guests, end even a soda shop.
Today, events are held year-round in Longmire's picturesque Alumni and Beth (Walton) Moor Lounges. The building currently serves as the administrative home of the College of Arts and Sciences, the oldest college at the university.

Directions:
You will now find yourself at Convocation Way. Across the street to your left you will see Suwannee Dining Hall and Reynolds Residence Hall. To your right, you will see Jennie Murphree Residence Hall and the Sandels Building, home of the College of Health and Human Sciences. Just beyond Sandels on Call Street is the Claude Pepper Center and Museum which is well worth a visit. The Museum showcases the lifetime work of U.S. Senator Claude Pepper, a strong advocate for the elderly. To continue, cross Convocation and move northwesterly to the sidewalk between Jennie Murphree and Sandels Green.